CAMPUS ALERT: Due to the weather, all evening classes at CSB and SJU are canceled. The LINK bus will run on its regular schedule until 5 p.m. and then every hour on the hour for the remainder of the evening, weather permitting. Pre-scheduled campus and community events and college/university sponsored events scheduled at off campus locations may continue at the discretion of the divisional VP.
Researching Organizations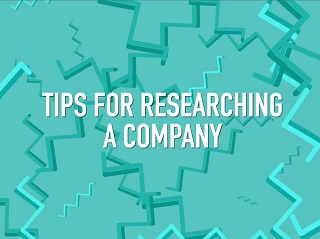 Researching Companies
Download Quick Tips (PDF)
CareerSpots.com ©
An often overlooked, but incredibly important step in the job search process is researching potential employers. By gathering and effectively using information about employers, you can enhance your resume and cover letter writing skills, your interviewing readiness, and your ability to make satisfying employment choices. If you know an organization's culture, employment qualifications, specific needs, and recent developments, you can customize your resume and cover letter to "speak the company's language." By doing so, you can convey significant interest in the organization before ever meeting an interviewer. Using this information, you will also be able to both answer interview questions more effectively and ask insightful and useful questions of the interviewer. Having done your homework on an organization, you improve your position to make informed decisions about your employment future.
1. Why Research Organizations?
To gather information which will allow you to effectively market your skills, interests and goals to the employer in a resume, a cover letter and/or an employment interview. By having a good understanding of the organization you can connect your strengths and abilities to their needs.
To determine whether or not the employer and the position will be a good fit for you.
To generate thoughtful questions to ask an employer in an interview.
To demonstrate your interest in the organization and the position.
2. Getting Started
Review the company files available in the Career Resource Centers. Most employers interviewing on campus will provide a current copy of their recruiting materials.
Visit the company's Web site.
Gather additional, more objective information, from other sources such as business directories and news sources. The Web can be a useful place to find current news information as well.
Talk to current and/or former employees. Use the CANE Files and people in your network to identify individuals who may work for the company or in the industry in general.
Stay current with relevant industry publications or newspapers during your job search.
3. Company Research Links
Alcuin/Clemens Library Research Guides
Hoovers Online: The Ultimate Source for Company Information
The Edgar Database
Career Magazine
JobWeb Employer Directory
First Research
Researching Companies Online
CareerInsider
Wetfeet
Fast Company
4. Information to Obtain
Company size, scope, location and organizational structure (number of employees, number and location of plants, stores, regional offices, sales outlets and ownership).
Products and/or services
Potential new markets, products or services
Financial information
Competitors
Recent news
Position description
Qualifications
Opportunities for advancement
Industry trends
Company mission and goals
Corporate culture
5. Resources Available at Campus Libraries
Resources on Minnesota and Regional Companies (Public and Private)
Minnesota Business Almanac
The Corporate Report Fact Book
Minnesota Fact Book
Resources on Public and Private Companies
Hoover's Handbook of American Business (Profiles major U.S. Companies - PUBLIC)
Ward's Business Directory of U.S. Private & Public Companies
Dorgan & Mast's Job Seeker's Guide to Private and Public Companies
Who Owns Whom Directory of Corporate Affiliations: Public, Private & International Companies
Information about Subsidiaries
Who Owns Whom Directory of Corporate Affiliations: Public, Private & International Companies
Standard & Poor's Register of Corporations, Directors, and Executives
Financial Information
Moody's Bank & Finance Manual & News Reports
Who's Who in Finance and Industry